Eponymous French designer Thierry Mugler is known for defining the cinched waists and strong shouldered silhouettes that reigned over the eighties and still remain relevant today. While many of his designs were unyieldingly feminine, he also embraced gender fluidity and often looked to the LGBTQ+ community for inspiration, collaborating with trans models and drag artists even at the beginning of his career.
Sadly, Mugler passed away on January 23rd 2022 of "natural causes", devastating the fashion world and many celebrity figures and friends. He is famously responsible for designing Kim K's 'wet dress' look for the 2019 Met Gala, as well as dressing Beyoncé and Lady Gaga for performances along with the likes of Grace Jones, David Bowie, Celine Dion, Kate Moss and Diana Ross.
However, the couturier has become an icon in his own right. Speaking to Vice in 2010, Mugler described his clothes as "sexy and avant-garde… It's all about getting a great F**k darling." I mean, he did pioneer 'power dressing' for a reason.
One of Mugler's biggest sources of inspiration was the shape of women's bodies, which is why he features so many figure hugging corsets, bustiers, transparent materials and extravagant silhouettes. Never failing to intrigue, Mugler's theatrical fashion shows acted as a campy, bold time capsule that both traversed the contemporary climate of the nineties and formed campy, futuristic mythologies that continue to influence designers.
In celebration of Mugler and his fantastical creations, presented below are his most striking looks, from Haute couture to ready to wear and beyond.
Haute couture spring/summer 1995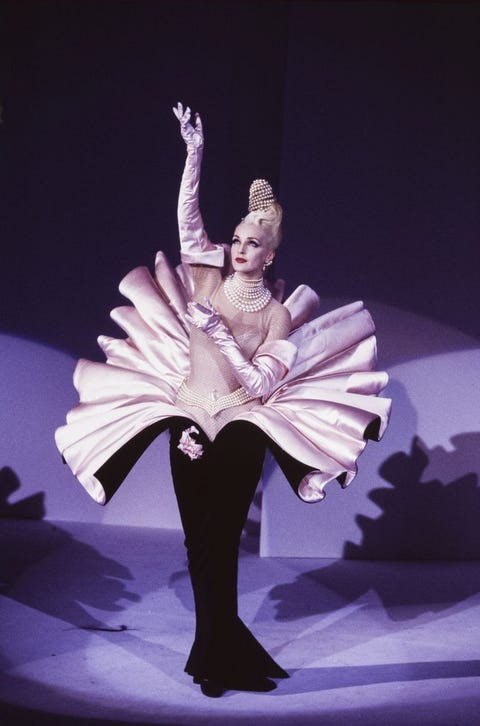 Reworn by Cardi B at the 2019 Grammy Awards, the look is a whimsical and elegant take on the "Birth of Venus". Originally worn by Italian model Simonette Gianfelici, the piece is an homage to Botticelli that was featured amongst 300 other looks for the 20th anniversary of his couture house.
Ready to wear fall/winter 1995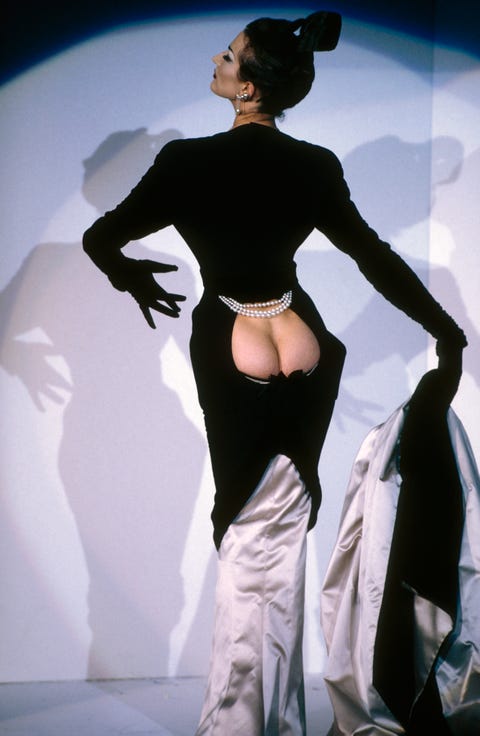 This 'cheeky' dress was ahead of its time, adorned with strings of pearls and teasing in all the right ways.
Ready to wear fall/winter 1993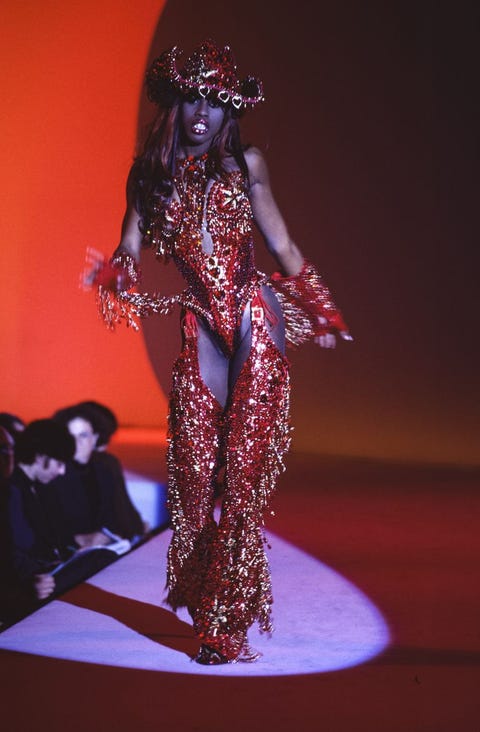 Infamous transgender model and hard-to-get-past doorwoman Connie Girl made waves as a glitzy red cowgirl with a bejewelled corset and knee high boots that double as suspenders. This collection became the base of George Micheal's 'Too Funky' video.
Kim Kardashian at the Met Gala 2019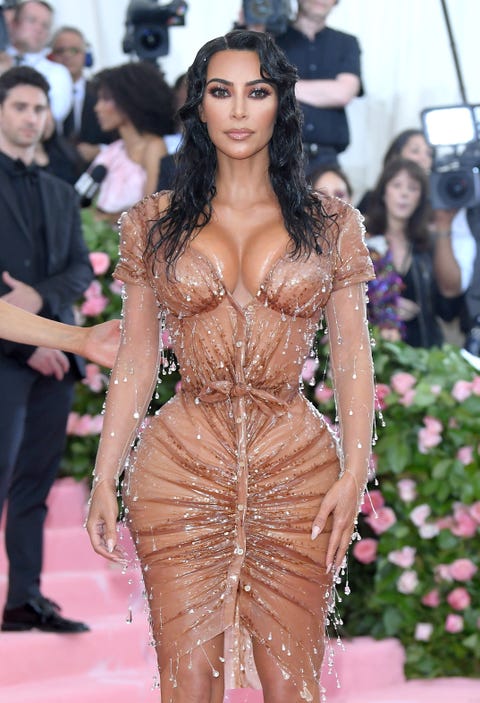 Inspired by 2019's theme, 'Camp: Notes on Fashion', Kim went as the "wet version of herself". Mugler celebrated camp in the way that Susan Sontag framed as "the love of the unnatural: of artifice and exaggeration", both seen in the tiny artificial water droplets and the extremely corseted waist.
Haute couture fall/winter 1995
This robotic suit was a nod to Donna Haraway's 1986 essay 'A Cyborg Manifesto' and the technologication of modern culture. A smorgasbord of sexuality, metal and flesh, the model performed a robotic striptease which began with a floor-length robe and enormous hat.
Haute couture spring/summer 2000
This iridescent bridal look transformed the model into a siren-like figure encased in a sheer ruffle of tulle.
Ready to wear fall/winter 1982-3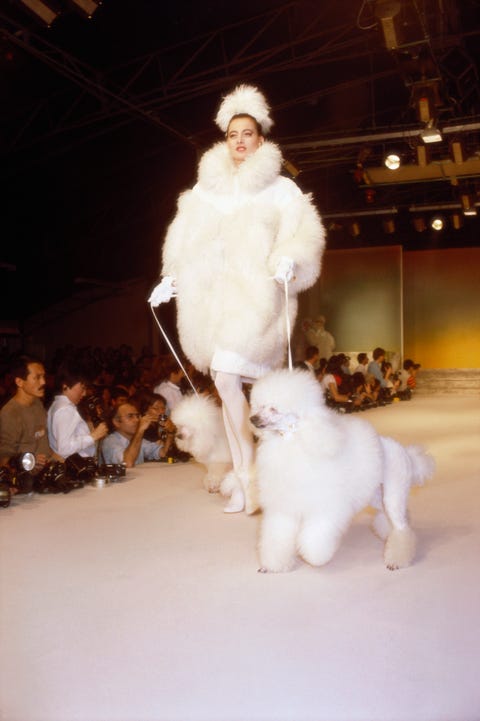 If Cruella de Vil was into poodles, she would've been dressed by Mugler.
Beyoncé 'I Am…' tour 2009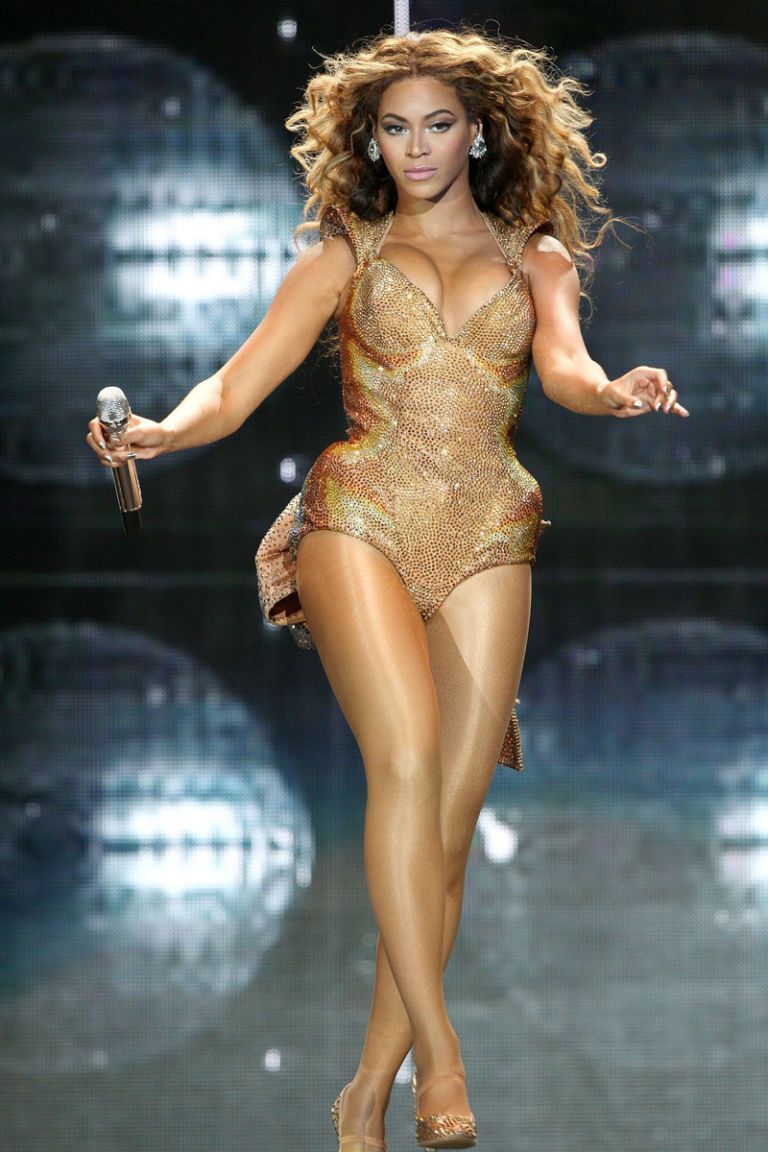 One of the most notorious Beyoncé looks of all time, this ethereal golden bodysuit is both parts fierce warrior and elegant goddess. Who could possible pull it off better than Queen Bey herself?
Cardi B at the Thierry Mugler Couturissime opening party 2021
A seasoned Mugler darling, Cardi B was adorned by a plunging, crystal-encrusted bodice, matching opera gloves and a hooded, feather trimmed coat which she emerges from like a tropical red hibiscus. This particular archived piece was taken from Mugler's Fall 1995 Haute Couture collection.
Ready to wear fall/winter 1996
A young Linda Evangelista glided down the catwalk in this sheer, powder blue gown crowned with a head piece reminiscent of a sparkling jewel salamander.